I get asked all the time "What multivitamin should I take?"  My answer is usually to recommend Shaklee's multivitamin of course 😉 but sometimes I can't discuss product brands by name.
This week I got an email from Dr. Steve Chaney, a PhD biochemist and professor emeritus from the University of North Carolina where he taught nutrition to medical and dental students.  If you're interested in such things, please subscribe to his website at by clicking this link.  And you can scroll down to see his post from 3/28 which is what inspired me to write about this topic this week!
This week's email was about how to choose a multivitamin and his suggestions were fascinating and so USABLE!  Here are the three takeaways that struck me most from Dr. Chaney's email.
Before you read any further, go get your multivitamin bottle.  You'll want to look at the label as you read this article.
Your multivitamin should be COMPLETE
There are 24 nutrients for which the US FDA has set Daily Values (DV).  The DV is the amount which is judged to be able to prevent nutritional deficiency in nearly all healthy individuals.  Notice this is not necessarily OPTIMAL intake, just what is needed to prevent deficiency in healthy people.  Those who have medical problems may need different amounts.  The DVs also vary based on age, gender, pregnancy and lactation status.
Your multivitamin should have all 24 nutrients (23 if it doesn't contain iron).  Count them to make sure.  If it doesn't have all 23/24, don't buy it, it's not complete.
Let's look at two labels for comparison.  First is the label for Shaklee's Vita Lea with Iron.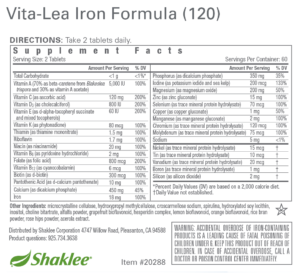 All 24 nutrients are present and accounted for.  You'll also note that most of the nutrients are present at 100% DV (daily value) or better.  For some (like magnesium, which can cause diarrhea, and calcium, which can cause constipation) the amounts are lower to avoid side effects.
There are also nutrients that the FDA believes are important for humans but there isn't enough evidence to set a DV.  These nutrients have a "dagger" symbol next to them.  If you see the five trace minerals at the end of the label above, those have the dagger next to them.
Let's look at another label for a very popular brand of vitamins sold at every grocery store and pharmacy in America.
This one has only 21 nutrients in it.  No magnesium (and if you know me, you'll know magnesium is one of my FAVORITE nutrients to prescribe), phosphorus or molybdenum.  Not complete.
Your multivitamin should only include safe ingredients
If your multivitamin's ingredient list includes artificial colors or sweeteners, don't buy it.  This includes aspartame, acesulfame, and anything that has a color plus a number (like Red 40).  These ingredients have no business in a nutritional supplement.
I want to say a word about gummy vitamins for a moment.  Look at your gummy vitamin's nutritional panel.  I've included a popular one for reference.
Definitely not complete.  Here's the ingredient list:
Sugar (3 grams and 10 calories per serving), artificial colors and artificial flavors.  NOT healthy.
Gummy vitamins are candy pretending to be healthy.  If you can find one that's complete and has no added sugar or unnecessary calories, artificial flavors, artificial sweeteners or artificial colors, by all means buy it and send me the info so I can put it on my website and issue an official apology.  Until then, if you want candy buy candy, but if you want a high-quality nutritional supplement that will support your overall health, a gummy vitamin is worse than not taking a multivitamin at all.
Don't fall for marketing hype!
If there is no DV or dagger symbol next to an ingredient in your multivitamin, that ingredient probably does not add anything of value to support your health.  (Notice I'm talking about your multivitamin, not herbal products taken for proven health benefits in addition to your multi.)  Similarly, a lot of multivitamins have marketing buzzwords on the label like "organic," "natural," "whole-foods," etc.  Also be aware that the individual nutrients in a multivitamin are highly purified and contain no DNA or protein so "non-GMO" is meaningless.
Companies also will claim that their products are safer than other companies' products.  Ask for proof.  How do they know?  How many quality tests do they run on their raw materials and finished products?  How often do they issue recalls?  What is the procedure if a customer has a problem with a product?  Is there a guarantee?
Now that we've discussed how to make sure a multivitamin is complete, whether its ingredients are safe, and whether you've unwittingly fallen for marketing hype, let's check in with you, Dear Reader.  How did your multivitamin do?  Leave me a comment and let me know!
PS – If you found your multi isn't all you thought, please check out Shaklee's Vita Lea multivitamins or email me at drjen@jenniferwurstmd.com with any questions.