Happy Halloween everybody!  I LOVE Halloween 🙂  Costumes and boisterous kids and, yes, treats.  If you come in to the office on Halloween you'll see that my office really gets into the spirit.  Nope, I'm not going to tell you what my costume is.  Maybe I'll post a pic on my Facebook page on Tuesday 🙂
The downside of Halloween is that it starts the snack-food feeding frenzy that doesn't end until New Year's Day.  It's a constant parade of sweets and treats for the next two months.  VERY difficult for those of us who are conscious of our weight and our health.
Fear not!  There are plenty of healthy Halloween treats available!  Here are a few ideas of how to help your kids (and your neighbors) have a happy healthy Halloween!
1.  Dark chocolate:  Dark chocolate is MUCH better for you than milk chocolate.  It has more antioxidants and helps lower cholesterol and blood pressure.
2.  Portion-packs of apple slices, pretzels, raisins, trail mix or nuts.  Make sure to ask if nuts are OK, some children are allergic.
3.  Dried fruit:  Banana chips, freeze-dried strawberries, pineapple, raisins, so many possibilities!  Sweet and MUCH healthier than candy!
4.  Carrot sticks:  Sweet and crunchy, and oh so good for you!  Full of fiber and vitamin A for healthy skin and eyesight.
5.  Popcorn balls:  Also high in fiber, popcorn balls are available at this time of year in factory-sealed packages for trick-or-treaters.
I found an awesome YouTube video from The Vegan View with four different awesome idea for healthy Halloween-themed treats.  These would be great to make with kids.  Check it out!  (And their costumes are so cute!)
Here's a photo of the most adorable Halloween treats I've seen this fall, courtesy of Pinterest!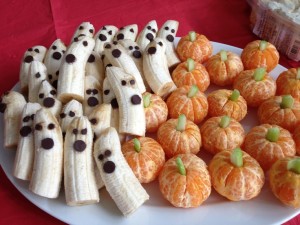 Make sure you set aside some time to stay active, and eat a healthy meal with the kids before they head out trick-or-treating.  Send the kids out with a SMALL bag and encourage them to take only one piece of candy at each house.  After they get home, consider having them choose their favorites to keep and then have a "candy buy-back" for cash, a gift card, or a special privilege.
Have fun, stay safe, and be healthy!
Question:  Are you planning to take any steps to "limit the damage" to your health this Halloween?  Please share your ideas below!