Vacation.  Relaxation.  Downtime.  Family.
You guys who have been reading these blogs for awhile should know that I'm usually pretty positive.  For weeks before my recent vacation I was so excited!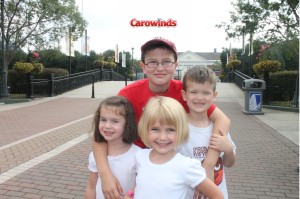 We went to Charlotte NC and spent the weekend with family.
We spent two days in Gatlinburg TN and had a blast!
Then we went to Nashville TN for the Shaklee Global Conference and I got to connect with other businesspeople and re-energize.  Goal-setting, learning new skills, and just pure fun and pleasure.
However, vacation has its downside.  I have not been having a good week since I got back and I thought I'd tell you why.
BEFORE  So what happens when you're planning to leave the office for a week?  You are VERY focused on getting all tasks done before leaving.  I stayed late in the office every day for a week before leaving, making sure all the labs were reviewed, documents filled out, messages returned, emails sent, etc.  It was very stressful and I remember wondering if vacation was worth all the extra work.
DURING  Even though I tremendously enjoyed my 9 days away, spending time with my kids and the rest of my family, in the back of my mind was all the work piling up at the office!  Isn't that silly?  I found myself wondering how things were going at the office, whether my partners were getting overwhelmed and if my patients were having a hard time getting through to the staff and getting appointments.  (I knew for a fact they were going to have a hard time because two of the four of us were out of the office!)  I purposely tried to put all thoughts of work out of my mind but I kept circling back.
AFTER  As you can probably guess, this was the worst of all.  I had 11 nursing home admissions while I was gone.  I came back to a hospital census of 9 patients and it stayed at 8-10 the whole time I was on call.  The office was an absolute zoo.  Packed schedule, pages of labs and correspondence and messages and Xrays galore.  I have been buried all week and haven't even had time to post on my Facebook business page!  As Russ will tell you, I am ADDICTED to Facebook.  Too busy for Facebook is WAYYYYY too busy :-p
Now it's the weekend (FINALLY!) and I'm still digging out from under the mountain.  However, I think I'm starting to see the light at the end of the tunnel.  I'm catching up on my sleep and looking forward to a little downtime (and maybe even some exercise!) today.
Even with all the frustration of getting back up to speed in the office, I'm glad we went.  We had a great time and I know it's important to schedule time away.  I just wish it wasn't so hard coming back!
Question:  What is your experience when you go on vacation?  Is it easy to get back to work or do you spend a week or two catching up?